Don't let Fido🐶 and Felix🐱 impact your
indoor air quality
and health. These top
HVAC maintenance tips
for pet lovers, will keep you and your furry friend comfortable throughout all seasons minus the pet hair. The weather may be hot from Dallas to Canton, but your 4 legged friend relies on the air conditioner just as much as you do.
You may get unconditional love from your pet, but along with that comes the excess pet hair and dander. These routine tips and to do's will keep your home's HVAC in tip top shape.
Change your Air Filters More Frequently
You've seen the dust floating through the air. What about that excess pet hair that you find on the couches, carpets, and in the corners of your home? Dust, pet dander, fur and a variety of other potential allergens circulate regularly through your air. Having a pet increases the amount of these contaminants that is caught in your air filters. Consider minimizing the time between filter changes to help improve the functioning of your HVAC system and air quality. Pet hair can pile up and changing your air filers can help dramatically.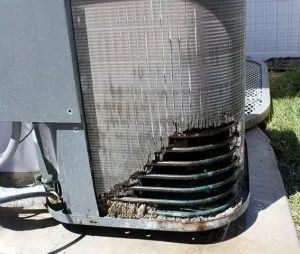 Don't forget shedding season. If you have a pet that loses more fur during these times of year, perhaps consider increasing your filter changes. A clogged filter can impact the air flow and cause excessive amounts of stress on your system as it attempts to push air through blocked access. Not changing your filter is one of the fastest ways to shorten the life of your HVAC system.
Protect Your Outdoor AC Unitpet damage to AC
You would not believe the damage that pets can cause on your outdoor air conditioning unit. From chewed wires, to excessive urination on the unit, your pets can wreak havoc on your outdoor system. We have come across systems that have literally melted from urine. What does this mean to you as a homeowner? Most often, a whole new outdoor unit is required to repair your AC system. This is a costly repair!
Consider building a lattice fence around your outdoor unit. But remember, you cannot build anything that will block the air flow. Make sure you are a minimum of 24″ away from the units. Preferably, utilizing a mesh or somewhat open design will help the air flow as well. We love our pets and spend a lot of money spoiling them. Making sure you keep an eye on them while they are near the outdoor equipment, will save you time and money from the damage that they can create.
Check Your Air Vents from Time to Time
It is no secret that our pets love to nap, relax, take over spaces and often plop themselves down in the not so convenient spaces. Often times toys, pet hair, food and variety of other small gifts can find their way slipping between the slats of your floor vent. If you have a pet that likes to hide things.. especially their food, what better place can they find? Not to mention the excessive pet fur that often times finds it way down the vent to gather and contaminate the air your breathe. As part of your routine spring and fall cleaning, consider taking a peek inside the vent to see if anything has fallen into the depths. Remember, this excessive dust and grime is circulating through your air and your HVAC system.
Brush your Pets Outside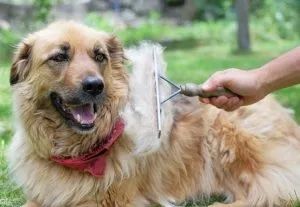 This tip is simple! Depending on the breed of pet, you may or may not have a pile of pet hair that resembles a small animal left after routine grooming. Take the pet salon outside and save yourself the extra time required to clean those loose fly aways of hair. Brushing your animal, especially long haired pets, not only creates excess fuzz but also dust flying through your air! Make the clean up easy and just take it outdoors. The birds will also thank you as they find valuable bunches of fur to add to their nests.
Get an Air Purifier
Having an air purifier will help take some load off of your HVAC filters. By reducing the amount of pet dander and hair floating throughout your home's air, you are not only taking some of the burden off of your filter but also reducing the allergens. Consider talking with the expert technicians at Guardian during your next tune up visit about bettering the air quality with air purifiers. No more itchy eyes, dust particles, and sneezing during shedding season!
Routine Maintenance is a Must!
Having eyes and expert hands on your HVAC system is crucial to keeping your home comfortable through all seasons. There is nothing more valuable than seasonal tune ups that help keep the motors, electrical components, vents, thermostat, ducts and so forth in tip top shape. Keep in mind that the excessive dust and dander that pets produce can end up in the various components of your system. Motors clogged with fur and grime will break down. Electrical connections covered with fur can pose a hazard. Routine maintenance will clean and prevent any unexpected emergency HVAC breakdowns. Its a reasonably priced solution to potential expensive disasters! Don't avoid these 2 simple appointments each year.
The expert teams at Guardian love your pets but most importantly, they know the damage and risks that can occur to your HVAC system from Felix and Fido. Contact Guardian today for a routine maintenance visit as well as a free air quality inspection. Guardian's experts will show you IF there is any risks or excessive allergens that you should be worried about and make sure your HVAC system is in tip top shape to keep you and Fido feeling comfortable.
Schedule your Worry Free tune up today.